Helping our startups succeed
We let startups focus on their core business. Startup Bakery can take care of the rest.
We back our startups, 8 times
The strength of Startup Bakery lies in the experience of its core team and the skillset of its professional network. These enable us to actively support the development of our startups in all foundational areas, so we can successfully accompany every new project.
We have created a range of services that allow our co-founders and startup teams to focus on their core business and software development, knowing they can count on tangible and measurable support along all project phases.
Partners, not consultants
We believe that simple consultancy services are not enough to support a startup's successful development. On the contrary, an active partnership is needed to create a "maker culture" throughout our studio.
In our experience, this approach helps to significantly reduce a startup's risk of failure and to enhance the quality of the startups we build.
Who we work with
By building startups we allow founders, enterprises and professional investors to express their innovation potential.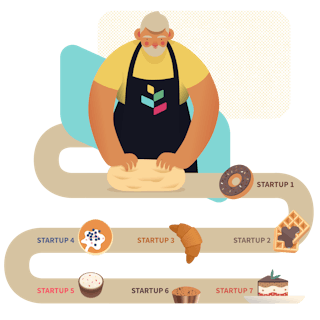 What is a startup studio
A startup studio (also called startup factory, company builder, startup foundry or venture studio) is a "generator of startups", a company which builds new enterprises in series following a "parallel entrepreneurship" approach.
The startup studio model aims at significantly reducing the risk of failure, typical of newly created enterprises, while enhancing the quality of the new startups.